PokeSurvivor 2: Johto
ORG Staffing
Host:
Bo as Professor Elm
Prediction Writer(s):
Luna as Mr. Contesta
Game Statistics
Board Access:
Deleted
Date Began:
August 30, 2009
Date Finished:
October 18, 2009
# of Contestants:
20 Players
Winner(s):
Dr. Akihabara (5-3)
Various Tribes
PreMerge Tribes:
Deoxys
Electric Ice
Merge Tribe:
Spettro
Returning Seasons
pokesurv2.conforums.com
NP Awards
Production Information
Edit
Sign Ups for 20 players began August 27, 2009. Reservations were not allowed. People were allowed to sign up as their favorite character from a predetermined list of 400 cast choices. There were no other limitations on who they could pick to play as.
Check Ins for the players began on August 28, 2009. There were no replacements. The game then began on August 30, 2009.
Game Summary
Edit
Series Twist: Players were considered Pokemon Trainers, trying to catch and raise as many Pokemon as they could as well as play the game. There would be several ways to catch Pokemon and a shop to purchase items for them, using money earned through posting. Ties at TC would be broken with Pokemon battles. Once at the F4 of the game, the remaining players would then go head-to-head in Pokemon battles to determine who will make the Final Tribal Council.
Season Twist: Each round the winning tribe (once they merged, just the challenge winner) would be given the password to the National Park. While there, they'd have the opportunity to catch rare Pokemon exclusive to the area.
Season Twist: Players were all given access to the Radio Tower to enjoy music and began a secret search for a Hidden Immunity Idol.
Challenge Twist: Electric Ice earned a Red Chest during Immunity Challenge #4.
Challenge Twist: Electric Ice earned a Blue Chest during Immunity Challenge #7.
Challenge Twist: Deoxys members each earned 1 MooMoo Milk during Immunity Challenge #8.
---
@Final 20 players were placed into 2 tribes of 10.
@Final 10 players merged into a single tribe.
@Final 4 players fought in a Pokemon battle to determine the finalists.
@Final 2 players reached Finale, facing 8 Jurors.
Avatars
Player Information
Game Charts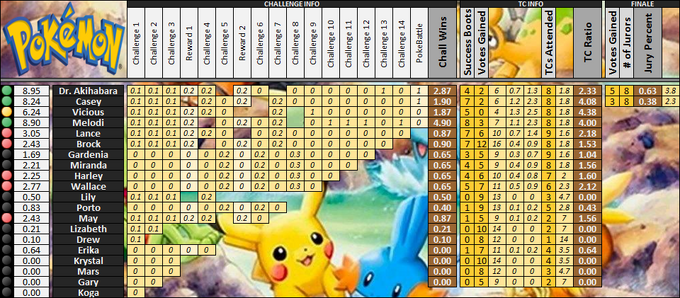 Based on the Survival Average used at True Dork Times.
Trivia
This ORG introduced 5 new Alumni: Jason, Jhans09, Ribwich, Radium-e & Rockpaperzack.
The Deoxys tribe was named by Diamondaurapayge after the pokémon.
The Electric Ice tribe was named by Jason as a combination of "electric" and "ice".
The Spettro tribe was named after the Italian word for "ghost".
Conforums, the message board service which hosted this game, shut down on April 15th 2018.
Foot Notes